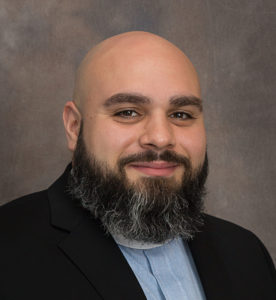 Barry L. Sanchez was born July 23, 1982. Pastor Barry is married to Jasmine M. Sanchez who he met and grew up with in the church since he was 6 years old. They have 3 beautiful children, Heather Leslie, Joshua Barry and Trinity Sol.   Raised in Brooklyn N.Y. he grew up in B.R.C.C. from the age of 4. Having grandparents and a mother who were all very much involved in the church and a father who wasn't saved he witnessed many of the highs and lows of Christianity and ministry. At the age of 13 he began to struggle with his faith in Jesus after the death of his grandmother in February of 1996. Looking for answers and comfort in all the wrong places he turned to a life full of violence, alcohol, sex, and drugs. After 10 years of running from God and causing himself and others around him much heartache and pain, he finally hit rock bottom.
At the age of 23, on the verge of making what would have been a horrible mistake, God in His loving mercy and grace reached down and saved him.   Despite doing everything he could think of in an attempt to make Him turn from him, God instead  gave Barry yet another chance. In April of 2006 he surrendered his life to Jesus and things have never been the same since. After having the opportunity to share his heart with Pastor Luciano Padilla III over lunch in 2007, Pastor Luciano and his wife Yvette made the decision bring Barry and Jasmine on board the Divine Design ministry team. That began his journey towards becoming the man God had always intended for him to be.
In October of 2009 Barry and Jasmine were entrusted with the youth ministry of the church, which they had led faithfully and successfully for over 8 years when they passed the baton to a new youth leader in February of 2017.  In April of 2011 he was consecrated as a Pastor of B.R.C.C. and was officially brought on staff in November of 2014, he now oversees the student ministries of the church.  He with his wife Jasmine have been Pastoring over our Saturday night Divine Design service since 2014.  In April 2016 Pastor Barry was ordained and was installed as an Elder serving on the Board.  Pastor Barry is also very passionate about seeing change and growth in the community.  As the community liaison of the church he has partnered up with ministries like Holding Hands serving Red Hook and Sunset Park Brooklyn, holding weekly worship services while providing pantry services as well. Pastor Barry is also the overseer of the World Harvest Community Groups, which are the small groups for the english department of World Harvest Community Center.  His heart is to not only serve within the four walls of the church but serving the community and it's leaders so that lives may be impacted and transformed through the gospel of Jesus Christ.
Guardar