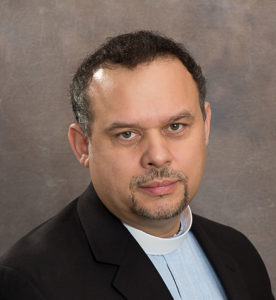 Felix Espinal is married to Maria Hernandez and is the father of three sons, Andrew, Steven, and Jordan. Felix was born in the Dominican Republic and was raised in the heart of Brooklyn, East New York. He attended Erasmus Hall in Academy of the Arts High School. Felix gave his life over to Christ at the age of 18, and immediately began studying at a Bible institute at Igelsia Pentecostal de Jesus Cristo at Richmond Hill, Queens. He became a member at "La Hermosa Vid Verdadera" Pentecostal church located in Queens, New York. A year after his new birth experience, he preached at his local church, followed by receivinginvitations to share at other churches.
He then sought to educate himself in the Holy scriptures. He earned his Bachelor's Degree in theology and completed the Masters in Divinity courses at Vision Christian University at the Bay Ridge Christian Center Campus.
Felix then began teaching the youth of Bay Ridge Christian Center at BRCC's Sunday School of Ministry. Felix and his wife Maria were entrusted with the Couples Ministry which they lead successfully for more than ten years. Felix was ordained as a licensed ministers and consecrated as a pastor at Bay Ridge Christian Center by Pastor Luciano Padilla Jr. Felix and Maria Espinal currently pastor the Spanish congregation that fellowships at 1pm at BRCC.
Guardar