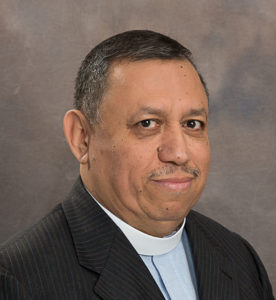 Pastor Milton Quintanilla is originally from El Salvador and is married to Aminta Quintanilla with whom he has two children, Milton Jr., and Jonathan. Pastor Quintanilla heard about the Lord for the first time when  a friend at work shared the Good News of the Gospel of Jesus Christ with him. He felt the conviction of needing a Savior and believed that Jesus wanted to bring  salvation
to his life. It was in 1980 at the age of 24 years old that the Lord   demonstrated his mercy in a supernatural way and Pastor Quintanilla  received Jesus Christ as his personal Lord and Savior. It was in a prayer vigil where he received the gift of the Holy Spirit and he began to want more of  God. From there, the Lord took him to a different land and church so that His plans and purposes for his life would be fulfilled.
Pastor Milton Quintanilla arrived in New York, a land unknown to him with a language he did not speak or understand; this would be the place where God would reveal His plans and purposes for his life. During the time when Pastor Quintanilla was looking for a church where he could attend, the Lord began to mold him into a man of prayer, faith and dependence on God. Not much time passed before the Lord directed him to Bay Ridge Christian Center, where he finally found a home church. Immediately he began studying in Vision Bible Institute where he received his Bachelor's Degree in Theology. It was in Bay Ridge Christian Center that the Lord confirmed the purpose for his life through the prophetic gift. The Lord continued to open doors and he served as a teacher in Vision Bible Institute and later became the Associate Pastor of our Spanish speaking  congregation.
Faith, confidence and obedience to God have taken Pastor Quintanilla from where he was to where he is today. That same faith, confidence and obedience will continue to lead him in the plans and purposes of God for his life. His personal desire is that he would like to live in the complete abundance of   what God has for his life at this time. His desire is that people would come to know Christ in an intimate way.