Apostle Luciano Padilla Jr. was born on September 27, 1940 in Brooklyn, New York. He was raised in a Christian home and on his fifteenth birthday he publicly received Jesus Christ as his personal Lord and Savior. At age nineteen he received his call to the sacred ministry.
Apostle Padilla prepared for the ministry by pursuing Biblical studies at Mizpa Bible Institute in Puerto Rico, graduating as the Valedictorian of his class on May 20, 1961. Apostle Padilla received his Bachelor's Degree in Theology from the Manhattan Bible College and while Pastoring and raising a family,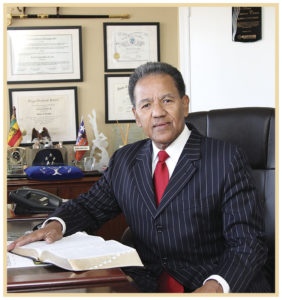 continued his studies at the Evangelical Seminary of New York and at the Latin American Biblical Seminary. He received his Masters of Theology from Logos Bible College and was awarded a Doctorate of Ministry from Vision Christian University. In May 19, 1993 Pastor Padilla received an honorary diploma from Zion Bible Institute and in June 2003, Pastor Padilla received an honorary Doctorate in Ministry from Alliance Theological Seminary.
He began his public ministry in Connecticut in 1961 and has been Pastoring the Bay Ridge Christian Center, a bilingual and multicultural ministry, for 45 years. Apostle Padilla has helped the church grow into its present state of multiple ministries, among them; a Christian Academy from K4-8th grade, and a Bible Institute that trains lay people for the work of ministry. In 1995, Dr. Padilla was consecrated to the office of Apostle.
Dr. Padilla has been married to Blanca Luz Padilla for the past fifty seven years and is the father of two children. His son Luciano Padilla III, and wife Yvette have four children, Celeste, Jayson, Sydney and Kalessi. His daughter Judith Vega and her husband Rick have four children, Ricardo Jr., Bianca Marie, Luke and Leah Vega. Both son and daughter work alongside their parents in the ministry on a full-time basis.

Guardar
Guardar
Guardar
Guardar
Guardar